Post by Sharpay Harper on Mar 17, 2009 14:38:38 GMT -5
Name:
Sharpay Harper
Preferred Rank:
Ensign
(Ranks can be changed by Admin or Moderators if need be.)
Position:
Engineer, specializing mainly with warp and temporal mechanics.
Please specify specialty within field if needed.
Species:
Human
Age:
23
Physical Description:
5' 4 ½'' tall, 117 pounds, long blonde and wavy hair, brown eyes.
Height, weight, hair color, eye color, any distinguishing features.
Birthplace:
Risa
Hobbies:
Tinkering with items, reading ,playing sports, horse back riding.
Likes:
Solving puzzles
Baseball
Guitar
Facing difficult odds
Proving people wrong
Dislikes:
Being bossed around
People who think she knows nothing
Home wreckers
Blonde jokes
Medical exams
Family on board?
None.
Provide details of any family on board.
History/Background/Education
Sharpay was born on Risa to an unmarried couple who were in lust, just having a fling. After Sharpay was born her father split and her mother being young and unsure gave her to the adoption agency back home on Batazed. She then left. Six months later a Starfleet officer named Daniel Harper and his wife Gretchen Harper went to Betazed during Daniel's shoreleave time to visit their relatives. Daniel and Gretchen wanted to have children but Gretchen was unable to so her sister, Raquel suggested they check out the orphanage. The two decided it couldn't hurt so they did just that. They saw many children, but they fell for Sharpay.
Gretchen and Daniel adopted her when she was 6 months old. They weren't quite sure how this would work, but Gretchen being half Betazoid they had a bit of home field advantage as Sharpay was human. The two took her back to Arizona where they had decided to live. Growing up Sharpay didn't see much of her adopted father, but she did get spoiled a lot. Her grades in school were always up at the highest and she did a lot of extra curricular activities despite that she did get in trouble on occasions, mainly because of her tongue.
Later when she felt she had learned all she could she decided to enter Starfleet Academy at age 17. It was Daniel who sparked her interest in the place. She graduated, but stayed a bit longer for extra learning. After all was complete she was assigned to the USS Orion.
It does not need to be super long or very complex.
Personality Profile:
Tough, witty, unconventional, sarcastic, independent thinker. On rare occasions generous, and compassionate. Very loyal to her friends, but can at times can be sneaky. She takes her job very seriously. She's never been known to follow rules and regulations 100% of the time. Her sense of humor is a bit dry. She has an artistic side, but has always kept her talent hidden. Sometimes she can be a tad bossy, and come across rude but doesn't really realize it.
Other Personal Details:
Adopted.
Any Special Notes:Celebrity or Image:
Ashley Tisdale
Avatar Image Link: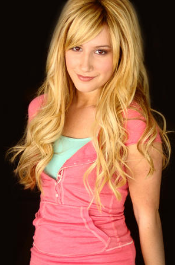 i44.photobucket.com/albums/f50/Miss_Megara/Among%20The%20Stars/Among%20The%20Stars%20Avatars/Sharpay1.png
Role-Play Sample:
Minding her own business, Sharpay was sitting in her favorite café drinking a mocha latté when suddenly she saw two male Starfleet officers enter the quaint little coffee house out of the corner of her eye. Sharpay sipped on her latté as she pretended not to watch and listen to their conversation. The two officers talked about their upcoming missions, requests, and then onto pool. Sharpay smirked a bit at their conversation as her eyes flickered over to the pool table in the shop. Sharpay decided a little visit was in order.
The young ensign put down her drink and rose from her seat, and casually walked over to the other officers. Sharpay put a hand down on their table, leaning on it. She looked at the officers and smiled."Hello." She greeted sweetly. The officers looked up at her and smiled back. "Hi." Sharpay gave a slight nod. "I couldn't help but overhear your conversation." She said rather coyly. "Is that so?"
"Yes. The thing that interested me most was your exchange of words about pool." Sharpay told them as she nodded in the direction of the table."Think one of you could teach me how to play?" Granted Sharpay already knew how to play. She was just looking for some company as well as a little information, besides she couldn't help passing up a chance to show up a guy. "I'll teach you." One of them offered and walked with her over to the table. He started explaining as he started setting up the game. Once it was he said; "Ladies first."
Sharpay smiled and took the shot knocking almost all the balls into the pockets. She then glanced back at the one officer. "Basic mathematics." Sharpay said a tad smugly as she walked round to the other side of the table to line up another shot.
Please post a 1-3 paragraph role-play sample as your character. It can be about anything you want.