Post by Falcon on Jul 22, 2011 0:37:34 GMT -5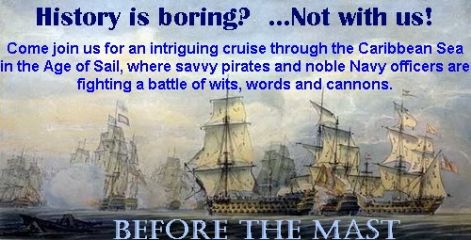 PLOT
||
RULES
||
FACE CLAIM
||
NEWBIE GUIDE
On"Before the Mast" we try to relive the life of the men – and of course the women – whose adventures we read about in the books of Walter Scott, Raphael Sabbattini, Patrick O'Brien, Alexandre Dumas and others, in a realistic and historically accurate setting. Sea fights, duels, romance, love, hate, intrigues and betrayal are woven in intriguing plots and it is easy for new members to find their spot to shine.
The board has no canon in any way, your imagination and the historical facts are the limit, as you can see in our
crew lists
. We are looking forwards to see you and your character on our board, be it as a common sailor, a fishmonger, a pirate, a slave, a navy officer or any other time-appropriate individual. We have 4 ships of various allegiances to crew and 4 island capitals to populate.
What we aren't:
We strive for original content and realism, so it's no "Pirate of the Caribbean" site. We do not allow magic, neither special powers, basically we are a real life site within a historical setting.
The site is rated PG-13 (L2-S2-V2), so it is not really limiting, excepting explicit scenes (fade to black required).
What we offer:
- A friendly writing community, without OOC drama or cliques, with friendly and dedicated staff, in a game which has won RPG-D and RPG-U Forum of the Fortnight/ respectively Month awards.
- Help with character applications and quick approval
- Extensive information regarding the historical facts – no more torturing the poor Google on your own!
- A wild variety of plots and subplots where everybody can find something to his or her liking
- Special community events and a monthly newsletter focusing on plots, characters and players.
What we are looking for:
Dedicated and interested players. While we understand that real life comes first, it is also true, that a roleplaying game is a community project and other players might desperately wait for
you
to post. Therefore, we do have activity checks and we would like to find players, who are willing and able to post regularly.
We don't expect you to be a history professor or anything, just to be willing to learn and to keep your character true to the historical circumstances.
Sharpen your blades, load your guns, drain the last sip of rhum and rise to swashbuckling adventure, spending some time with us
"BEFORE THE MAST"
, on the ship of your choice!