Post by Captain La'Mara Tiho on Feb 14, 2009 15:57:53 GMT -5
Name:
Lydia Prince
Preferred Rank:
Captain
(Ranks can be changed by Admin or Moderators if need be.)
Position:
Commanding Officer
Please specify specialty within field if needed.
Species:
Norcadian/Human
Age:
37
Physical Description:
Lydia Prince is five feet five inches tall (5' 5'') and weighs 119 pounds. Her hair hangs a bit above her shoulder when down,and is an auburn color.On duty she keeps it back in a down poney tail.
Her eyes are a light brown chestnut color.
Height, weight, hair color, eye color, any distinguishing features.
Birthplace:
Lydia was born in Ireland on Earth, but was raised in San Fransisco,California since she was 7.
Hobbies:
Velocity.
Kadis-kot.
Rock Climbing.
Strumming on her guitar.
Using her holoimager or old camera.
Playing out holonoval mysteries.
New Languages.
Likes:
20th and 21st century history.
Photography.
Music-everything but rap and classical.
Problem solving games.
Trying new and different things.
Chocolate.
Dislikes:
Anything that takes place in or around large bodies of water.
Cold environments.
Meat-Vegetarian.
Dogs-Allergic.
Loud and noisy places.
Clutter.
Family on board?
No Family.
Provide details of any family on board.
History/Background/Education
It does not need to be super long or very complex.
Lydia Prince was born in Ireland. She was an only child. The reason she has human names is because her father was Human. Her mother was Norcadian. The way her mother got to the Alpha Quadrant is quite an interesting story. One she gets tired of telling. Growing up Lydia was always getting into some sort of trouble,whether it be because of her mouth or because of her habit of cracking into secure files or endless curiosity.
Before she entered the academy Lydia spent half her time studying mathematics,sciences,and languages. The other half was spent indulging her creative side that included painting,sculpting,and playing guitar.
She graduated high school a bit early at 16,and entered Starfleet Academy right after. She took all the basics courses,and some advanced classes as well. The advanced classes were sciences and engineering. In the academy it seemed hard to make friends,especially since most of the time she got a Vulcan roommate.Once she got a Klingon and she introduced her to Klingon coffee,and taught her a few on ground battle tactics.
In her spare time (which was scarse) Lydia would explore the 20th and 21th century programs,play her guitar,rock climbing and other activities,as well as plant flowers with Boothby.
It was her first punishment for her first year there when she would cut across the lawn,and trample through flower beds to get to class on time. In time she found it rather satisfying,and continued to hang out with Boothby even when her punishment was over.
Lydia learned a lot from Boothby besides how to plant flowers.
Her first assignment after graduating the academy was becoming a a science officer on a small research vessel. After that she ended up getting promoted to Lt. due to keeping her cool continuing to do her job and help out during a crises situation in which they lost both the captain and first officer along with the main science officer.
Not long after she went back to the Academy to further her knowledge. That's when Lydia decided to go to command school. She passed quite well,and learned a lot. She majored in Sciences,and minored in engineering,and tactics. She found temporal mechanics quite interesting.
After serving on two other vessels she was finally given the rank of captain,and was assigned to the USS Orion. This would be her very first command.
Personality Profile:
Witty,Sarcastic,Unconventional,Curious,loyal,resourceful. Quite determined when she sets her mind on something.
Other Personal Details:
Allergic to dogs and is a vegetarian. Lydia is also at the moment the only hybird of her kind as she is currently the only person to have a mother from the Delta Quadrant. Which the story itself is quite interesting,but she doesn't like to tell it much.
Any Special Notes:
Lydia has a very mild Irish accent.
Celebrity or Image:
Roma Downy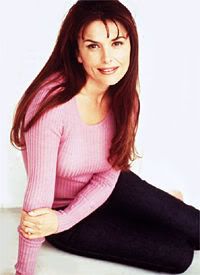 Avatar Image Link:
i44.photobucket.com/albums/f50/Miss_Megara/Among%20The%20Stars/Among%20The%20Stars%20Avatars/roma_downey.jpg
Role-Play Sample:
Please post a 1-3 paragraph role-play sample as your character. It can be about anything you want.
Lydia had been pacing back and forth in her room ever since she got back from a very important meeting where she had been informed that she was going to be captain of a new vessel that was different from the rest. The thing that was different about it was that it's mission took place in the direction of the Delta Quadrant. One of the reasons she was nervous. That quadrant was a bit of a ways off and it was where her mothers home planet was. Lydia stopped pacing when she heard someone at her door.
She just stared at the door a few minutes due to her nervousness. She took a breath before saying; "Come in."
When the door opened she saw her mother,and a bit of her nervousness washed away. Her mother came in and walked up to Lydia giving her a hug. "Hello dear." Lydia hugged her mother back. "Mom,it's good to see you." Lydia let go as soon as her mother did.
"Is everything alright?" Her mother asked looking her daughter in the eyes. There was no fooling her.
"I'm fine mom,just a little overwhelmed. I was just chosen not but half an hour ago to be captain of the newest Intrepid vessel with the most unique mission you might say." Lydia informed her mother as she turned to look out the window. "I know I can do it or I hope so." Lydia turned back to face her mother.
"You can and you will. I know it. You've never failed at anything Lydia,well except maybe keeping out of trouble." Her mother said with a chuckle. Lydia smiled. "Thanks mom." Lydia said with a roll of her eyes.
At least she didn't bring up my record this time.
Just then Lydia's monitor beeped. "One minute." Lydia walked over to the monitor and flipped it on.
The monitor contained instructions and a brief message from one of the admirals that hand picked her. This was pretty much it. One day and then she had to get to the Orion. After reading everything Lydia sat next to her mother who had taken a seat on the couch while she had gone over to her monitor. "Looks like it's soon. Perhaps we should have family night that is initially why you came isn't it?"
"Partly." Her mother replied. They both stood up and left.
Secret Word In The Rules:
PM the real secret word in the rules to all the admins. DO NOT post it here
.