Post by Ensign Mary Anne Summers on Mar 1, 2010 15:40:49 GMT -5
Name:
Mary Anne Elisabeth Summers (Also known as Gidget)
Preferred Rank:
Ensign
(Ranks can be changed by Admin or Moderators if need be.)
Position:
Medical-Medic
Please specify specialty within field if needed.
Species:
Angosian
Age:
25
Physical Description:
Mary Anne Summers stands average height at 5' 4'' weighing 121 lbs. Her hair is a light to medium brown that falls just below her shoulders. On duty it can be found in a French braid, off duty she usually just lets it fall loose. Her eyes are that of a medium brown that somewhat match her hair. She is very lightly tanned from the California sunshine and out door activities. Gidget's build is slim, but firm. Frame: average.
Height, weight, hair color, eye color, any distinguishing features.
Birthplace:
Earth, Santa Monica, California
Hobbies:
Surfing, dancing
Likes:
Surfing, sports, the beach.
Dislikes:
Can't stand gloating or gossiping-It's just mean, being left all alone for a long period of time. The cold.
Family on board?
None.
Provide details of any family on board.
History/Background/Education
Mary Anne Elisabeth Summers is the youngest child from thirteen children; her being number thirteen of course. She has seven brothers and five sisters. There is quite an age gap between the second youngest (number 12) sibling named Maggie. The span there is thirteen years apart because Mary Anne's parents had her later in life. Her mother died when Mary Anne was six months old so she was raised up mostly by her father since most of her siblings moved out when old enough.
The one whom Mary Anne saw most of, and helped out her father when raising her was Mary Anne's brother Brian and his wife Silvia. So basically Mary Anne had mostly male influence for most of her life, with the exception of Maggie and her sister in law Silvia. That being so, Mary Anne was a bit of a tom boy and only had one real good girlfriend to pal around with when she was growing up.
In school she was not the brightest of the bunch, just average, but she did work hard and study so she could participate in after school activities. When Mary Anne turned ten she began collecting useless items, and things that people wanted to get rid of. She'd fiddle with the junk on occasions and sometimes make stuff as just a side hobby which is how she got the nickname Gidget which stuck with her throughout the rest of her life. She rather liked it too because it was interesting as well as unique. Some people shortened her nickname to Gidge, like her friends for instance.
Now when the time came where she could get a job she waitressed at a place where many Starfleet officers would stop by and grab a bite or get a drink. Some certainly caught her attention. So some days when she got off and there were still a few officers around she'd talk with them. That's how she got interested in Starfleet.
When she told her dad that she wanted to enter and be a part of it he was at first shocked. How could a free spirit who seldom finished certain projects they started stay committed to a place of learning like Starfleet Academy? However he was not going to stand in her way. People learned not to do that, especially with Gidget having her mind set to something and being one that had learned the hard way through life.
At age seventeen she took the entrance exam and failed. One person even told her that she didn't have what it took and could never be officer material which just made her go that extra mile to prove the person wrong. The second time she passed the exam. Sometimes she'd get teased. That only made her work harder, and stick her tongue out at those when they weren't looking, and sometimes when they were.
Mary Anne did make some really good friends in the academy though. She also found that she liked the medical track the best so that was the field that she decided to enter. After time had passed, like all the rest Mary Anne Elisabeth Summers graduated. She then got stationed on the USS Peregrin as a medic. She was so thrilled.
It does not need to be super long or very complex.
Personality Profile:
Mary Anne Summers, commonly known as Gidget is pretty laid back for the most part. It is a little difficult to rattle her cage, unless of course she sees something as unfair and unjust, then her and her spunk rise to the occasion. Depending on the situation Mary Anne (Gidget) can be outspoken or soft spoken,either way she is somewhat energetic. She's also a perky person who has this no fear way about her and is willing to jump into the fray even if she has no clue as to what is going on.
Mary Anne Summers is the type that believes you can be friends with whomever you want and can almost put a positive spin on almost anything. She's very friendly and likes to think she is a friend to everyone. If you do choose to have her as a friend you won't be sorry for Mary Anne is loyal to the very end. She is also a very good secret keeper.
Gidget (Mary Anne) is an out door type girl all the way and also a tiny bit of a tom boy because she was raised by her father. So she enjoys surfing, fishing, camping, rock climbing, and anything else that requires endurance. Her head is held high and she takes everything in her stride.
Other Personal Details:
She's a vegetarian-nothing that used to once be alive will pass her lips.
Any Special Notes:
She is a little bit claustrophobic-Can not stand very tight small spaces for more than seven minutes before panic ensues.
Has learned to speak and read several different languages.
-They include: Spanish, French, Russian, Italian, Bajoran, Klingon, Vulcan, and Cardassian.
Celebrity or Image:
Christy Carlson Romano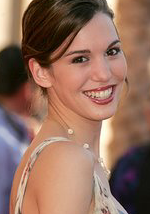 Avatar Image Link:
i44.photobucket.com/albums/f50/Miss_Megara/Avatars/maryannegi.png
Role-Play Sample:
"Oh! Me, me, pick me!" Mary Anne shouted with utmost enthusiasm as she jumped up and down with her right hand stuck high in the air waving back and forth. Mary Anne was just as excited as the rest of the guys and girls around her,well all but one girl. It was her best gal pal Tivia.
"Gidget, what are you so excited about? And what is with the 'pick me'? We just arrived, you don't know what's going on." Tivia said as she walked up and stood next to her friend. Mary Anne was tempted to let out a sigh. Did she always have to explain everything to Tivia? Being friends since elementary school one would have thought that the girl would have known Mary Anne long enough already to not ask trivial questions about the obvious.
Mary Anne stopped jumping up and down and faced her friend. She casually placed on hand on her hip and the other on Tivia's shoulder. "Tiv, it has to be something good or else this crowd of wiggy dingbats wouldn't be so eager to jump at whatever chance is being offered." Mary Anne explained or tried to. She and Tivia didn't always see eye to eye.
"You, the blonde Trill." Came a voice from the very front of the crowd. After those words were spoken disappointment spread like a disease through-out the once ecstatic crowd. One by one people started to spread out and go back to their own business. Mary Anne watched as they slowly went back to what everyone on the beach was previously doing, when they first arrived.
Looking back to Tivia Mary Anne said; "Now look what you did!" She let her arms fall to her sides. Tivia arched an eyebrow. "What exactly did I do?" She inquired of Mary Anne curiously. Mary Anne rolled her eyes in disbelief at the question. "What exactly did you do?" She repeated. "You just made me miss my chance to do something exciting is all."
Tivia looked over Gidget's shoulder at the Trill that had been picked from the crowd. The girl was heading full speed ahead to recycle someone elses empty bottle. "I did not know that recycling someone elses empty bottle was your big chance to do something exciting." Tivia looked back to Mary Anne. "I am sorry I ruined your chance Gidget."
Gidget looked over in the direction Tivia had looked back to after stating her apology. An empty bottle... Mary Anne's jaw nearly dropped. "Oh it's alright." Mary Anne accepted Tivia's apology as she sat down on a beach towel. "But do you know what this means?!" Mary Anne asked Tivia with uttermost excitement.
Tivia sat down next to Mary Anne. "Indeed. It means you are going to be unhappy."
Mary Anne gave Tivia a very confused, and puzzling look. Unhappy? Why would her friend have said a thing like that if she really knew what was going on. "Huh?" Mary Anne gently scratched the top of her head. "What are you talking about? Why would the surfing championship make me unhappy? All the greats are going to come in from all the corners of the galaxy."
"And you are going to miss it because you leave for your new assignment tomorrow." Tivia pointed out. Mary Anne's excited expression faded away. "You're right...unfortunately. But maybe you can record and take pictures and send them too me or something?" Mary Anne knew there was little point in asking,but still what possible harm could it do?
"Would that not be a waste of time? Aside from that I am to report to my ship the day after you leave." Tivia pointed out.
"Must you always be a wet blanket? Must you always point out the obvious and mention the gloom more clearly than the exciting parts of life?"
"Gidget, need I remind you I am part Vulcan. I do not mention gloom or excitement nor point out the obvious. I state facts, and say only from logical points of view."
Mary Anne sat up on her feet and placed a hand on Tivia's shoulder again. "You are only one tenth Vulcan,and you don't always act logical. Sometimes you act more Human which would make sense because both your parents are Human. Just because someone in your family married a Vulcan doesn't mean you have to act like one twenty four seven or attempt to. Your parents don't. But still, you're a good friend."
Mary Anne smiled and starting putting on sunblock.
"Thank you for saying I'm a good friend. I could easily say the same about you along with observations I've made over the years." Tivia replied as she opened the picnic basket.
"What observations?"
"You are unreliable, irresponsible, immature, undisciplined, inefficient, disorganized, and unmotivated. You are however starting to over come some of those disadvantages."
Mary Anne laughed. "Alright, so I might be a few of those things, but I'm fun!" Having finished putting sunblock on and hearing someone call out 'surfs up' Mary Anne got her surfboard. "We only have one day left, let's make the most and ride tandem."
Tivia agreed and off they went.
Please post a 1-3 paragraph role-play sample as your character. It can be about anything you want.
Secret Word In The Rules:
Done.
PM the real secret word in the rules to all the admins. DO NOT post it here
.