Post by Captain Kestra DMora on Nov 5, 2009 11:25:38 GMT -5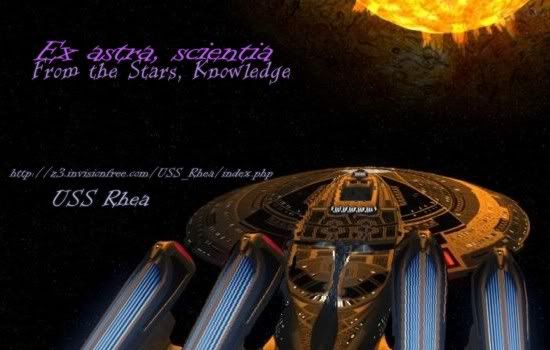 Captain's Log, Stardate 48580.44:

So this is it. Rhea's last night in spacedock. She's a bit different than I remember... But that's only to be expected. I've spent the last couple days just trying to get to know her again... after all the rennovations she's been through this last year, it's like walking the corridors of a completely different ship. I suppose it's only fitting that they rechristened her. It's strange... being on a different ship, yet knowing it's the same.

I'm sure there will be plenty of opportunity to get used to her again. In less than twelve hours we'll be launching on our... second... maiden voyage. Here's hoping it goes better than the first. We'll spend a few minutes taking her through her paces... so that everyone gets a feel for how she works... before heading into the Badlands. I'm rather pleased with the crew this time around. I'm sure every one of them will prove to be a valuable asset.

I have no idea what's waiting for us in the Badlands. However, that's part of the excitement. I can only hope that whatever fate befell the Voyager... does not fall upon the Rhea, as well.
USS Rhea is a Star Trek Role-Playing game set at the very beginning of Star Trek: Voyager. The Enterprise-D has just been destroyed on Veridian IV. Captain Sisko and his new ship, the Defiant, has launched a mission into the Gamma Quadrant to search for the mysterious Dominion 'Founders'. Voyager has been pulled into the Delta Quadrant...but no one here in Federation Space knows it yet.

Come and join us on our mission! The Voyager is lost, and we will attempt to find it, but who knows? The Rhea is a science vessel, and Starfleet's mandate is to explore and seek out new life. Perhaps our mission won't be as routine as we first thought...