Post by Lt. Cmdr. Celestia Milos on Apr 22, 2011 5:40:01 GMT -5
Delta One App.
Name:
Celestia Gina Milos (friends sometimes call her Celeste or Tia)
Age:
27
Species:
Bajoran/Human
Position:
XO of Delta One
Specialty: Linguistics, and Stellar phenomena
Please specify specialty within field if needed.
Preferred Rank:
Lieutenant Commander
(Ranks can be changed by Admin or Moderators if need be.)
Physical Description:
Celestia holds a look of complete innocence about her, even if she did do something wrong. Shoulder length red hair, with a bit of a natural wave. Brown eyes, which occasionally help get her out of trouble, in certain situations; especially if she pouts with those pink lips. She has a few little light freckles dusted across her face that seem to be noticeable if you are up close. Light, peach colored skin. A slender frame, with long legs. Celestia's off duty clothes hold a tropical aquatic vibe.
Height, weight, hair color, eye color, any distinguishing features.
Birthplace:
Earth, California, LA
Hobbies:
Anything that takes place in or on water. Swimming, water skiing, surfing, jet skiing, etc. etc.
Family on board?
None.
Provide details of any family on board.
History/Background/Education:
Celestia always had a love of two things; the ocean, and the stars. Growing up she was always running off to do something; she never could stand being in one place for too long. Always longed to have fun and an adventure of some sort. School had never been a problem. She breezed through her subjects pretty well. She had been thinking about becoming a Marine biologist at one point in her life, but started to go a different route, no thanks to her two brothers.
Celestia is the middle child. Her Human father always served in Starfleet and wanted all his children to do the same. Celestia had her own plans as usual. Her father then presented her with a dare. She took it.
Her father dared her to enter Starfleet preparatory school, and later take the entrance exam at Starfleet Academy. If she didn't like it, she could come back home and be whatever she wanted to be; reason for her fathers dare was that there was not exactly much order in Celestia's life. Natch, Celestia agreed. So Celestia enrolled, and took the basic classes and courses. She also passed the entrance exam, but instead of leaving she decided to stay on. As oddly enough she found that she actually enjoyed it.
Celestia was never at the top of her class, but she never gave less than her best since. At the academy she majored in the linguistics department in the operations division, and minored in astrometrics. Later on she decided to take a few command courses. When she graduated she was assigned to the
USS Kirk
, then after four years was transfered to
USS Hermes
, was transfered again to the
USS Artemis
, then as of now assigned to the first station in the Delta Quadrant: Delta One.
It does not need to be super long or very complex.
Personality Profile:
Celestia has always been one that dances to her own beat in life. She's a happy girl. Also finding things out the hard way, by going a head and doing something anyway even after she was told not to. She has a bit of a rebellious streak in her. Celestia also likes the strange and unexpected things. She also likes to go her own way...toss the rule book out the window! She also has to find out the 'why' to just about everything. Celestia can not stand not knowing something or being left out. She'll find a way. Loopholes are her friends!
She's often filled with vim and vigger, ready to go. She also has a tendency to just jump into the fray, not knowing one blasted thing that is going on. Celestia is also one that will cover for a friend if they need it. Making things up off the top of her head. Seldom is Celestia serious, unless of course the situation calls for her to be. She is not easily offended, but she might knock you down or tell you off if you go after one of her friends or a family member.
Celestia has always been a very generous person, and a very good secret keeper. And when she makes a promise you can be sure she'll keep her word...no matter what.
Any Special Notes:
While half Bajoran, Celestia does not embrace that way of life, much to her mothers dismay. Which is also partly why she has a first, middle, and last name like Humans.
Celebrity or Image:
Isla Fisher
Avatar Image Link: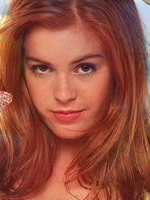 i44.photobucket.com/albums/f50/Miss_Megara/Avatars/cavie2.png
Role-Play Sample:
"This is stupid." Celestia stated bluntly, with a hint of boredom as she looked down at her friend Steven, who had asked Celestia to rehearse the balcony scene from Shakespeare's Romeo and Juliet. "And I really don't like these frills on this silly dress, and you look so bogus prancing around in tights!"
Celestia let out an exasperated sigh. "If we have to rehearse something can't we just do space battle? Say hello with a torpedo?"
Steven looked up at Celestia. "Gee, thanks a lot. And no. I need to get this down for the benefit."
Celestia simply rolled her eyes. "So in order to please certain people you want to kill me? That's real kind of you." Celestia hopped down off the balconly. "Tell ya what, why don't you get Penny to do this wacko thing with you or make a holographic partner? I'm done."
Celestia placed a hand on her hip. "I'll see ya on the waves after you get your common sense back."
If it ever comes back.Please post a 1-3 paragraph role-play sample as your character. It can be about anything you want.
Secret Word In The Rules:

PM the real secret word in the rules to all the admins. DO NOT post it here
.